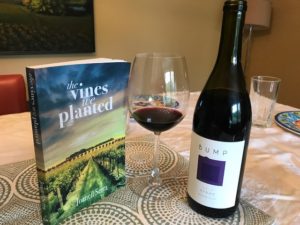 Last night I had the pleasure of dining with a group of Sonoma friends, and my sister from Sacramento. There were eight of us, and we love each other in the way you do when you've been friends for twenty-plus years.  We've shared weddings, births, deaths and divorces, birthdays and holidays, earthquakes and wildfires, road trips and rodeos. Maybe not a lot of rodeos, but at least one.
We spoke about the kids, who aren't kids, our work and families, and our creative endeavors.  And The Vines We Planted! They are, not surprisingly, very excited about my book coming out.  At one point in the conversation I realized three people there had already finished the book and two were reading it at the moment, all excited. I woke up to a group text from one of them.
I just got to the coitus interruptus! Oh no! (Not a big spoiler.)  It was nice to start the day laughing.
It's been a magical experience, getting the early reviews – which are wonderful – but even more so receiving letters, texts and calls from around the world from friends reading the book. After years of toiling away, metaphorically alone in the basement, I've come upstairs and found a party. Other people know Amanda and Uriel.  Friends are defending Gloria and shocked by Jim.  Literally, these characters have come to life, as they no longer live only in my mind. I hadn't expected this benefit. It's like I just found out there's more than myself in this club. In fact, this club rocks. 
So, thanks for reading, for tweeting and posting and sharing. If you like the book, please review it (unless you're my family member). Below are a few other ways you can help spread the word (since so many of you asked.)
I love my readers. I love having readers. Being a writer is tough – there are days you feel like you're wearing a dart board costume and handing out the darts. (#pitchfest). But this week, this love flowing like Sonoma wine.. this is sweet.
Good vibes to all,
Joanell.
How to help: 
Step one: Buy the book and read it.  It's at Wido Publishing (free shipping folks),  Amazon (Kindle now, print May 8) , Diesel Books, Book Passages, Readers' Books,  and Bump Winery.
If you like the book – review it on Goodreads and Amazon.  The reviews matter a lot to the algorithm in the sky.  Even liking someone else's review, if you enjoyed it, is helpful.
Share the book with friends, coworkers, your family,  your ex, your clients, your kid's teacher and your therapist. (Therapists read a lot. Trust me on this.)
Post it on Instagram, Facebook and your fridge.
Come to an event: May 17, 6:30 at Diesel Books.  June 14, 6:30, at Readers in Sonoma.  Bring friends. I'll be announcing a few more soon.
Tell the Marin IJ and the Press Democrat etc. they really ought to check out this author.
Drink wine with my book. It likes Cabernet, but a Zin works too. (The one pictured from Bump will do!)
Final step: Enjoy.