Welcome!
Thanks for stopping by.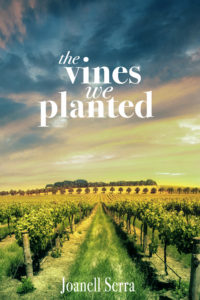 Check out The Vines We Planted on Amazon or at the publisher's website. 
Book Clubs!
Please see the side-bar for discussion questions.  Let us know if you're club is reading Vines so we can add you to our map!
 The Vines We Planted Audio-book is now available on Audible and Amazon  The Vines We Planted – on Audible.
"I'm so glad I got the audio-book – I loved the narration!"
— Lucy R.
If you are new to Audible, I recommend it. You pay for one credit a month, which equals one book.  Audiobooks can be expensive – and the credits are a much more reasonable amount. (About $16.) You can save credits up for six months, and I believe you can cancel any time. If you are planning to join audible and making The Vines We Planted your first book, please click here.  
You'll be amazed how many more books you "read" when you can listen in the car, train etc. Enjoy.
The narrator did a lovely job. So far readers/listeners are sending me great (happy) feedback.
If You Enjoy The Book, Please Review!
Simply go to the listing on Amazon and click "Review this Item." You don't have to have bought from Amazon to review. Goodreads is another great place to review.
This earns you lots of gratitude:)
REVIEWS
Five Stars!
"..the story of a family facing struggles…delicately and expertly woven together in a saga set in California around Uriel's family vineyards, where each relationship appears to have a bearing on others…" –Jane Finch for Readers' Favorite
https://readersfavorite.com/book-review/the-vines-we-planted
After reading Joanell Serra's The Vines We Planted, I was not at all surprised to learn that she is a licensed therapist. Her characters were beautifully captured; with all of them, the readers are given an in-depth view into their complexities and emotional experiences. You can't help but root from them as they face overwhelming challenges, from potential deportation to a failing marriage to secrets that threaten to upend their entire life views. The way Serra wove together multiple stories was gripping–this is the kind of book you can easily read in one or two sittings!
Catherine Brown – Writer and Writing Professional.
https://www.writehappy.net/single-post/2018/05/04/Joanell-Serras-The-Vines-We-Planted-Book-Review
Here's a little bit about the book:
In the heart of the California wine country, secrets seem to grow on the vines that Uriel Macon's family have tended for generations.
Uriel, the winery's young widower, steers clear of complicated relationships. He prefers the lonely comfort of his vineyard and his horses, until he is reminded of his love affair with Amanda Scanlon; a relationship that ended when she abruptly left the country years ago under a cloud of mystery.
When Amanda returns to Sonoma because of a family crisis, she tries to mend the broken relationships she left behind. In addition, she seeks the truth about her parents' complicated history and her own parentage.
But Amanda's unveiling of the past has devastating consequences. In the midst of California's beautiful Sonoma Valley, the Scanlon family struggles to overcome harsh realities with dignity and grace.
Both Amanda and Uriel stretch to take care of their families, which are facing immigration issues, marital crises, and loss. While navigating these challenges, the couple must decide if they trust themselves to love again, or to finally let each other go.
Please join my mailing list so I can send you fun things.
Stay in touch! Tweet, write, blog, email.
I love to hear from readers.